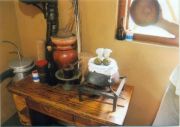 Ayubowan! From time immemorial, our unique greeting when we welcome anyone to Sri Lanka is 'ayubowan', meaning 'wish you long life'. It speaks of our belief in perfect health to all.
 The Traditional Sri Lankan Medical System is as ancient as the civilization of the island. Having survived many a millennia, this indigenous medical system cured the world of any given illness. Its immense capacity kept an entire nation healthy in body and mind for centuries, allowing the people to create one of the world's most amazing cultures.
While baring close affinity to Ayurveda, our indigenous medicine diverges slightly in practice and constituents. It is a healing system that focuses on mental and physical fitness simultaneously. The ancient secret of our medicine is this significant harmony in these two elements with nature. Humans are a part of nature and maintaining an ideal relationship with the forces of nature results in health and happiness. We also believe in higher spiritual contentment through mind grooming, and it is another aspect of a positive, healthy life.
Just as our natural splendour varies with different regions, so does our medicine. The island is home to a range of unique traditions and pedigrees known as 'veda parampara', that are established in their own regions from ancient times. Although there are slight variations due to geographical differences, they all are within the same structure.
The Sri Lankan Traditional Medical System is a wonderful gift of nature and we welcome you to visit us and heal your mind, body and soul in a serene experience unlike any other.